Report a problem on your street, road include AWPR dual carriageway or pavement including potholes and surface, broken paving slabs, or street lighting, flooding, power cut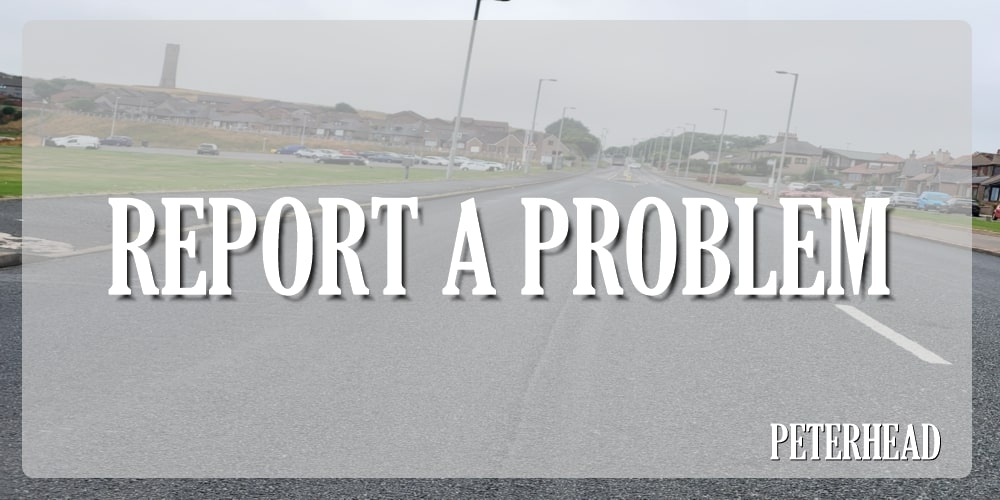 Report road or street light issues – Aberdeenshire Council
To report an emergency road defects or street lighting faults please phone:
Police on 101 (out of hours)
REPORT
Road lighting fault
---
All fields on this form are mandatory unless marked as optional.
Bollard
Road sign
School sign
Street light
Traffic light
Other lighting enquiry
REPORT
Non-emergency faults
---
If the fault is non-dangerous, then please continue to report the issue using Aberdeenshire Council online reporting from. Please don't use the form to report emergencies.
Report issues with roads and footpaths such as drainage problems, worn road markings, damaged/missing road signs
To report issues such as potholes, surface deterioration or subsidence please use our new Road Condition Reporting System
Report
Emergency faults By phone
---
Defects or issues that pose an immediate risk to public safety
Carriageway defects on A roads that are greater than 100mm deep and 400mm wide
Footway defects on narrow distributor footways that are greater than 20mm deep and 75mm wide
Overhead cables fallen across the highway
Structure collapse, for example bridge, culvert, wall, fences, scaffold, hoarding
Fallen tree or branch blocking part or all the road or path
Missing ironworks, for example manholes and gully grills
Damaged pedestrian guardrails likely to cause injury
Extensive flooding resulting in road being impassable
Traffic signalled junctions or crossing, all lights out, damaged street lights, traffic signals, lit bollards and lit signs where wires are exposed
Trunk roads Maintained by Amey
To report a problem on Scotland's North East Trunk Roads Network, please click the button below. (A9, A90, A92, A972 and more)
By email: occr-northeast@amey.co.uk
By phone: 0800 083 0084
Online press button below
REPORT
Aberdeen Western Peripheral Route
To report a problem on AWPR, please click the button below. (A90 from Stonehaven roundabout to Ellon South roundabout and A956 from Charleston to Cleanhill roundabout)
report
POWER CUT – call 105
View, monitor and report power outages and network damage in SSENs operational region.
Power Truck – https://powertrack.ssen.co.uk/powertrack
REPORT
Flooding
Report pollution
Call us on our 24 hours a day Pollution Hotline: 0800 80 70 60
Report a reservoirs emergency
Call 24 hours a day on 0800 80 70 60
Report fly-tipping
Report a Problem, view, or discuss local problems
(like graffiti, fly tipping, broken paving slabs, or street lighting)
FixMyStreet – Mapping and reporting street problems to the councils responsible for fixing them – anywhere in the UK.
Also, available in App Store and Google Play.