Coronavirus levels announced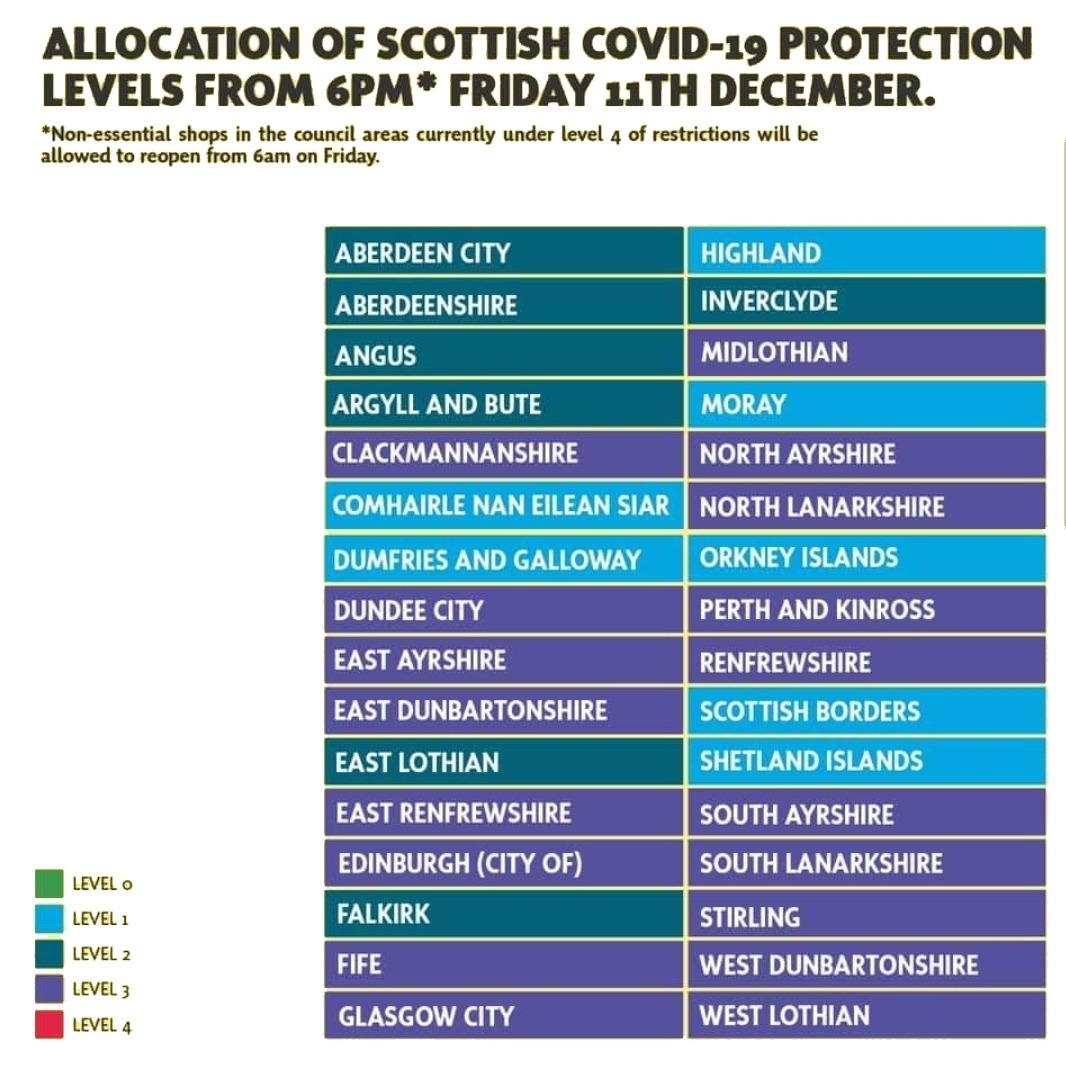 Easing of protection in council areas, Coronavirus levels
This follows improvement in the number of new cases in recent weeks in the 11 Level 4 local authority areas which will now drop down to Level 3.
Overall, half of all Scotland's local authorities will move down a level this coming Friday.
The First Minister told Parliament about Coronavirus levels:
"The fall in infection rates in these areas – the most highly populated in the country – have contributed to an improvement in the situation across Scotland as a whole. All of this puts us in a much better position to cope with the inevitable difficulties of winter.
"However, it does not remove the need for a cautious approach. The risks and challenges of the next few months are clear.
"That is why, in reaching decisions today, we have had to consider the potential overall impact of moving to a lower level of restrictions at the same time as the Christmas period begins in earnest."
The First Minister also announced that Angus, Inverclyde and Falkirk will drop a level going from 3 to 2.
Finally, Dumfries and Galloway and Borders Councils will drop to Level 1, following significant improvements in suppressing the virus in these two areas.
All other areas remain unchanged in their levels.
The easing of restrictions will happen from 6pm on Friday, 11 December.
However, retail outlets in areas dropping down to Level 3 can re-open from 6am on Friday in a move intended to help stores and shopping centres better manage the flow of customers after the period of closure.
However, the First Minister stressed that travel restrictions remain in place and no-one in a Level 3 area, or – until Friday – a Level 4 area, should travel outside their local authority area, except for essential purposes.
There will also be an easing of restrictions on gathering in homes for islands communities which are not linked by road to the mainland.
Up to six people from a maximum of two households will be allowed to meet in private homes in Level 1 island communities. Islands with road links to the mainland, however, will not be included in this relaxation.
Coronavirus levels – Background
Levels allocations at 6pm on Friday 11 December except retail which can open from 6am.
Level 1:
Highland
Moray
Western Isles
Orkney
Shetland
Scottish Borders
Dumfries & Galloway
Level 2:
Aberdeenshire
Aberdeen
Argyll & Bute
Angus
East Lothian
Falkirk
Inverclyde
Level 3:
Fife
Perth & Kinross
East Dunbartonshire
West Dunbartonshire
Renfrewshire
East Renfrewshire
City of Glasgow
South Ayrshire
East Ayrshire
North Ayrshire
Stirling
Clackmannanshire
City of Edinburgh
Midlothian
West Lothian
Dundee
North Lanarkshire
South Lanarkshire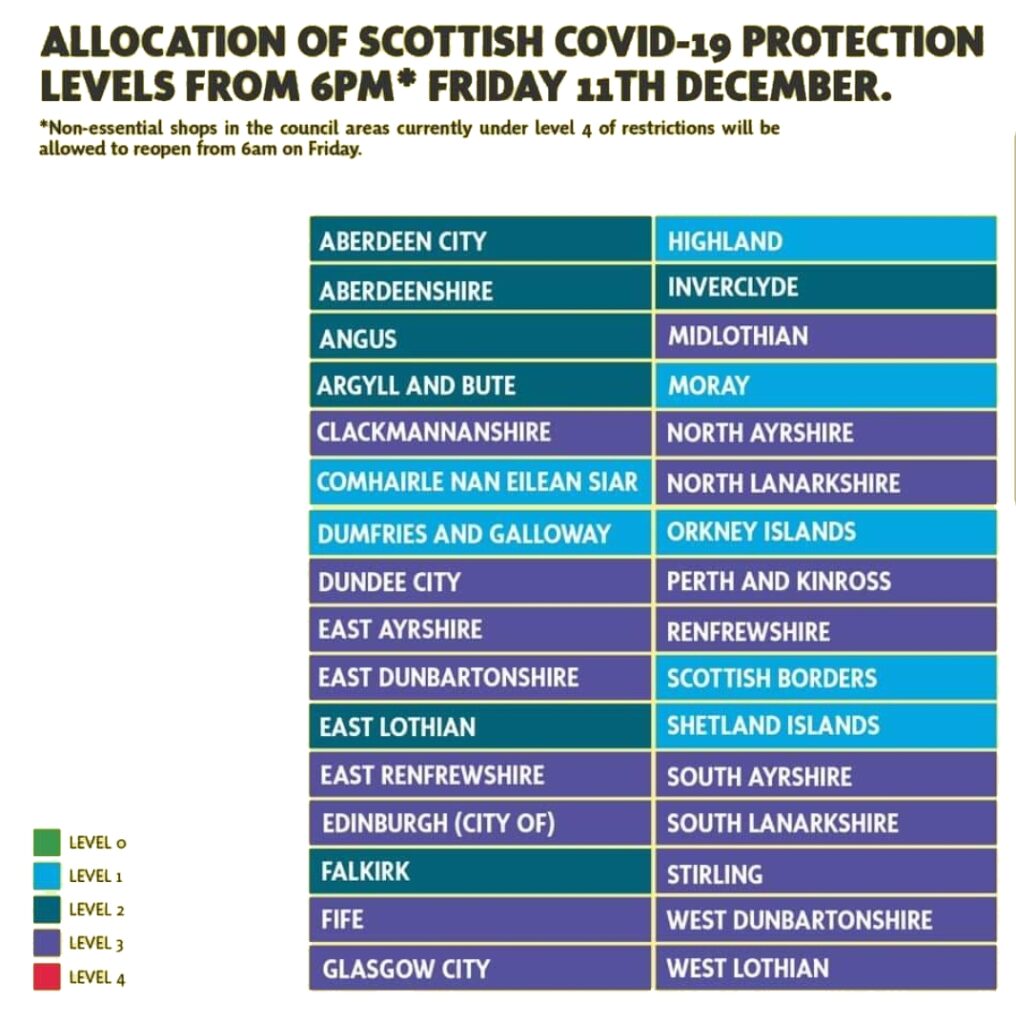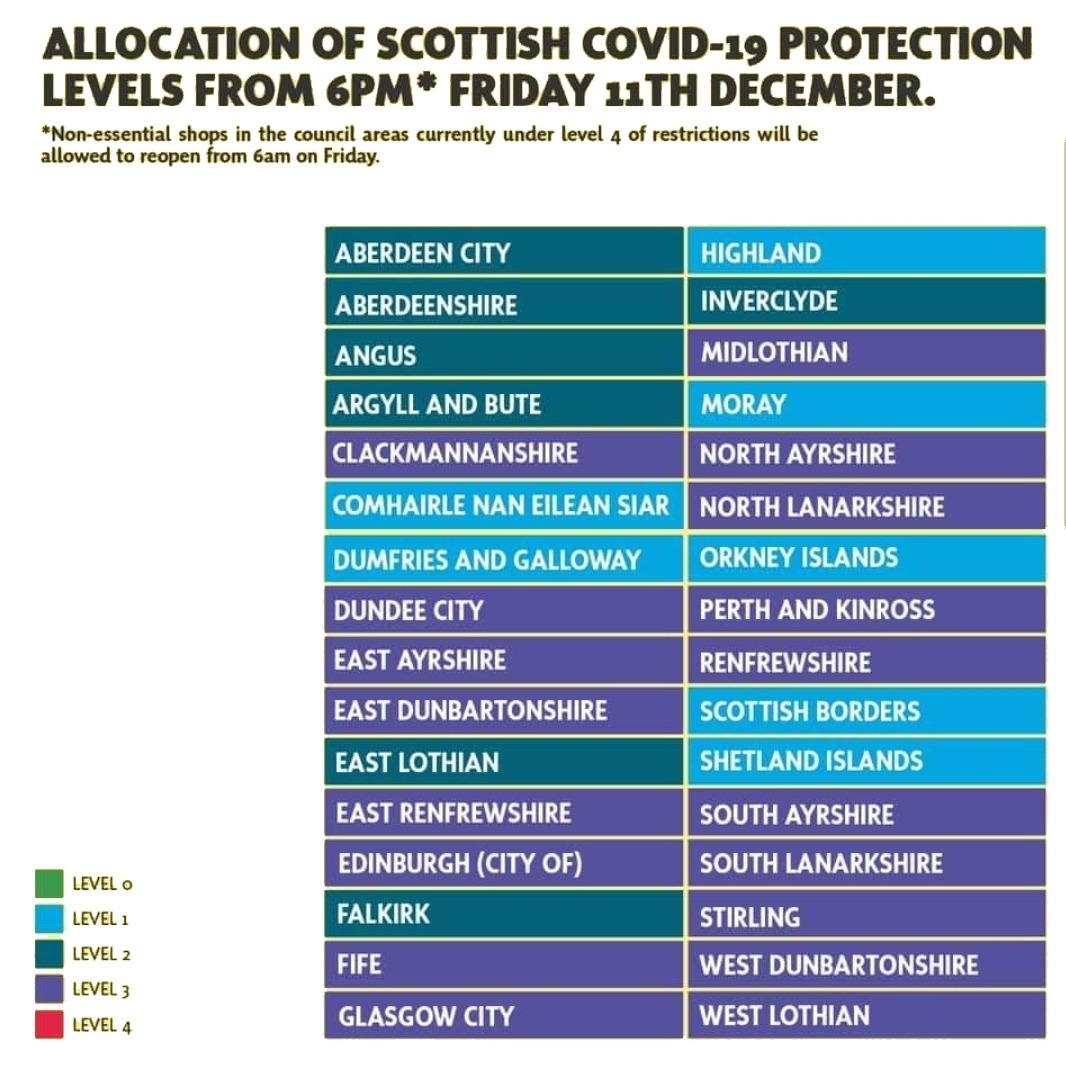 The assessment of what level of protection should be applied to each local authority is broadly based on an analysis of five key indicators:
number of positive COVID-19 cases per hundred thousand people over the last week
percentage of positive tests
forecast for new cases in the weeks ahead
capacity of local hospitals
capacity of local intensive care facilities
These factors are assessed alongside the advice and recommendations of local public health officials, National Incident Management Team, the Scottish Government's chief clinical and policy advisors, and consideration of local circumstances, such as: specific COVID-19 outbreaks; travel and work patterns; and the extent to which health services are provided by neighbouring health boards. Final decisions are based on all of these factors.
Alongside a table setting out the levels, a detailed analysis paper has also been published setting out the Scottish Government's assessment and overall decision for each local authority.
Find out more about the COVID protection in Festive period and what you can and cannot do at each level.
The five-level strategic framework aims to tackle COVID-19 with measures strong enough to reduce virus prevalence while proportionate to the scale of the problem in different parts of the country – and in a way that minimises, as far as possible, the other harms caused by the pandemic.
Coronavirus levels
________
Follow Peterhead.Live on Facebook for get more actual information